Intensive Meditation Retreat
with Swami Jnaneshvara
(and Tripurashakti Brahmacharini)
at Sadhana Mandir (Swami Rama Ashram),
on the River Ganges, Rishikesh, India
November 4-25, 2012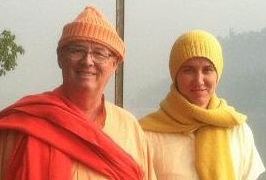 (Sadhana Mandir Ashram website)
(HIHT Hospital, University and Swami Rama Center)
(Go back to Calendar main page)
JOY and SERVICE: During this retreat, we joyfully devote several hours a day to serving a handful of people who are dedicated readers and practitioners of the principles and practices on the SwamiJ.com website, as well as those described in the books of Swami Rama. There is nothing I would rather do than spend time with sincere people in this way. If you are not familiar with my website or the teachings of Swami Rama, this may possibly not be the best retreat for you.
MEDITATION RETREAT: This is a meditation retreat; it is not a course, seminar, workshop, or a series of classes. The primary emphasis of the retreat is the practice of meditation, which is scheduled four times per day. The meditation method of our tradition is the process described by Swami Rama, systematically dealing with self-awareness practices, internal dialogue (contemplation), body, breath, and both conscious and unconscious mind, leading to the realization of that center of consciousness beyond.
OUR PURPOSE: While Swami Jnaneshvara ("Swamiji" or "Swami J") and Tripurashakti Brahmacharini ("Tri") are there to coach you as needed in these systematic practices, please keep in mind that the purpose of this retreat is sitting quietly four times a day, as well as cultivating self-awareness at other times. To insure that our practices stay on track with the intent of Swami Rama, we will watch his recorded video lectures every morning and evening, including time for Q&A and discussion. Afternoons are "open" for conversation, personal coaching, reading, or simply time for quiet reflection.
INTERACTIVE: Our gatherings are interactive, and you are expected to fully participate in all practices and other activities. Our philosophy is that programs such as these should be both fun and useful, and that this happens best with open interaction among participants and with the facilitators.
RITUALS AND GURU WORSHIP: Please note that in the meditation room where we meet for all activities there is an altar where there is a large photograph of Swami Rama. Swami Rama often said that a teacher/guru is like a boat leading you to the other shore, but that while you need a good boat, you should not worship the boat and you don't drag the boat around after crossing the river. While you will see others doing this, you are not expected to bow to or otherwise worship this photograph. If you wish to honor this great teacher and tradition, please do so by learning and faithfully doing the suggested practices during the meditation retreat. In addition, while you may see from time to time rituals being performed in the ashram, our meditation tradition performs no rituals according to Swami Rama, and if you see these during your retreat, you are not expected to participate (Swami Rama also advised that people need not change their religion; if people want to do rituals as practiced by their religious faith, that is quite alright).
SPIRITUAL TOURISM: If you feel strongly drawn to spending time together, and learning and practicing in this way, this might be a life changing or affirming time for you. If your interests are other than these, you will find a wide range of other programs in Rishikesh, as well as at our own ashram on different dates. This is a meditation retreat in alignment with the principles and practices of the Himalayan meditation tradition. If your interest is merely so-called "spiritual tourism" in India, this is not the program for you; you would be quite dissatisfied if you came.
DETOXIFYING FROM DRUGS: Please do not use this retreat or our ashram as a time/place to detoxify/withdraw from either prescription or illicit drug use. If you are under treatment for mental or emotional issues, you may find the self-awareness emphasis of these principles and practices to be too much for you, and it might be better for you to find some different program at our ashram or elsewhere. However, if you have a mental health or emotional disorder you are welcome to participate in the retreat so long as you are stabilized on your medications, and not coming here to detox. Please use your highest level of self-assessment to decide if you wish to apply for this meditation retreat; we are happy to work with you if you are stable and not trying to detox yourself, as this is a meditation retreat, not a medical facility.
ASHRAM AS A HOTEL: Please do not use this retreat or our ashram as a hotel, as a place to simply start your tourist travels in India. Do not just register with the intent to stay for a few days and then move on to other locations. If you wish to travel like that, you might do better to start with the many hotels and guest houses at Ram Jhula and Laxman Jhula in Rishikesh. These are well described in The Lonely Planet Guide and other tourist information books.
While our days together will be rich and full, there will also be time for quiet reflection and walks along the Ganges, which is immediately beside the ashram.
In loving service,

Swami Jnaneshvara (Bio)
The programs include:
Materials:
Please download, print, and bring with you these two articles (printed copies are available in the ashram bookstore). We will use these often for reflection, discussion and self-awareness practices.
Optional (useful during the retreat, but not required; you may ask any questions you have from these articles):
Additional reading (optional; longer articles):
You may also enjoy having some the files below and use them as focal points for practices and reading during your free time; you may ask me any questions in relation to these articles. Please decide whether you want to download/print them all, purchase them through Lulu (my page at Lulu.com), or print out only individual pages that you would like to discuss during the retreat. I am not asking you to print out all of the pages below, unless you wish to do so.
Books:
These are not required reading, but you may enjoy them during your free time; you may ask any questions you have from these readings. Conscious Living and The Essence of Spiritual Life are very practical, yet thorough descriptions of the inner journey. Samadhi is more detailed and is based on Swami Rama's descriptions of the yoga sutras. You can bring the three Swami Rama books with you or purchase them at the ashram bookstore. While we will not be going through these books page-by-page, you will find them to be great reading in your free times.
Typical day:
Following is a general schedule outline, though it should be quite accurate most every day. However, the program is flexible, and we may shift to accommodate the needs of the participants.
5:45-6:30am Hot lemon water and tea, neti wash (nasal cleansing; we will show you)
6:30-7:00am Coaching in Systematic Meditation as taught by Swami Rama (includes Asanas, Relaxation and Pranayama
(After the first week or so, we may adjust this to being self-directed
preparation and meditation time, as participants gain proficiency.)

7:00-8:00am MEDITATION #1
7:00-7:30am: Preparation (Asanas, relaxation, pranayama)
7:30-8:00am: Silent Meditation

8:00-9:30 Breakfast, walk, reading, reflection, personal time

9:30-10:30 Swami Rama videos; discussion
10:30-11:30 Yoga Nidra or Sohum Sushumna Kriya (alternate days)
11:30-12:30 MEDITATION #2
11:30-11:30: Preparation (Asanas, relaxation, pranayama)
11:30-12:30+: Silent Meditation
12:30-2:00 Lunch (1:00), walk, reading, reflection, personal time

2:00-5:30 Open satsang, coaching, study, personal time, walking
(Tea is at 4:00)

5:30-6:30pm MEDITATION #3
5:30-6:00pm: Preparation (Asanas, relaxation, pranayama)
6:00-6:30pm+: Silent Meditation
6:45-7:30: Supper

7:30-8:30 Swami Rama videos; discussion

8:30-9:30 MEDITATION #4
8:30-9:00: Preparation (Asanas, relaxation, pranayama)
9:00-9:30+: Silent Meditation
The free times are intended to be used for your personal readings and for quiet reflection or conversations about program experiences, not for shopping excursions or sightseeing. Please take such trips before or after the meditation retreat; this will greatly help your retreat experience. Please plan to stay in the ashram during the meditation retreat unless you have urgent needs. Internet is available in the office of the ashram. There is also a daily needs store a short walk away for items such as soap and toothpaste.
Orientation session:
Our orientation session will be Sunday evening, November 4, 7:30pm. Please plan your travels such that you will be in the ashram and in the meditation hall at this time for the orientation session.
Closing session:
Our closing session will be Sunday morning, November 25, with the "official" closing to be at noon, after our late morning meditation together. Please plan your departure for sometime after this closing session. The morning session of November 25 will be devoted to any questions you may have, and enjoying your farewell with the other meditation retreat participants.
10-day retreat:
If you would like to participate in the retreat, but do not have three weeks available due to your other obligations, please come for 10 days, from November 7 until November 14. The orientation session will be Tuesday evening, November 4, 7:30pm (the same as for the 3-week retreat). Please plan your travels such that you will be in the ashram and in the meditation hall at this time for the orientation session. Please plan your departure for afternoon of November 14. The morning session of November 14 will be devoted to any questions you may have, and enjoying your farewell with the other participants.
Register early:
If you would like to participate, please do not wait long to let us know of your interest, as there is limited space.
To register, please do two things:
1) Register by contacting Kamal (a woman) through the ashram website at SadhanaMandir.org. You can write her directly by email. There are forms that she will want you to complete and return to her.
SPECIAL NOTE: As of July 25, 2010 I have noticed that the "Programs" link on the website is not working with Firefox browser on either pc system or Mac system. It also does not work on Mac using Safari browser. It does work with Internet Explorer on pc system. Therefore, you may be unable to get to the description page, the registration form, or the email of Kamal unless you are using a pc and Internet Explorer. I have written to her to advise her of this problem. Please be patient and try again in a day or two or go to a pc computer that uses Internet Explorer. Or, try this direct link to the program page. Thanks for your patience.

2) Please also contact me directly so that we can discuss your meditation retreat via email before we are together in the ashram. Please explain in some detail why think that you and I should spend so much time together over these three weeks, and what you hope to gain from this.
Fees:
Program fee (nonrefundable): Rs. 750 per day including food and lodging (prices are subject to change without notice).
This is very inexpensive for international travelers, but is priced this way for sincere seekers who feel a deep personal resonance with these teachings. We will also have a means for you to anonymously donate to our ashram, hospital and university (about 20km away) for its charitable work if you wish. There is no expectation for you to donate, however, and you will not be pressured to give money. At the same time, however, donations are sincerely appreciated to support the charitable work.
Transportation:
You will have to arrange your own transportation, including airline if international, and domestic transportation within India. People have a wide range of preferences, so it is best that you explore these yourself. However, if you want a couple tips of who you can easily deal with for your transportation within India, or from the Delhi airport, you may wish to contact these people:
Ajanta Hotel: This is a moderately priced hotel in the Pahar Ganj area of New Delhi, near the New Delhi Railway Station. They focus on serving the needs of foreign visitors. They will send a car to the airport to pick you up. They also have a travel agency that can help you arrange train, bus, or car transport to Rishikesh, as well as other tours and travels. There are obviously many other hotel choices, and I list Ajanta Hotel here only because I personally know of them and have stayed there often.

Triveni Travels: I have known Mr. Bhuta Ram of Rishikesh for over 15 years, and have found him to be consistently reliable. He will send one of his taxis from Rishikesh to either meet you at your hotel in Delhi or at the airport if you wish to come directly to Rishikesh. His is also a full service travel agency.
If you wish to explore other travel options, the book Lonely Planet Guide for India is extremely good. It is widely available through online sellers and travel stores.
Visa: Indian visa is required for most people from most countries. Proper type is a "tourist" visa. If you are in US, your visa is most easily obtained through Travisa. I don't know about Indian visa application from other countries.
Other activities while in Rishikesh and India: If you wish to do other travels during your visit to the ashram and India, please arrange these during the days before and after the meditation retreat, so that you can fully engage in the meditation retreat itself without interruption. There will, of course, be times during our days for brief visits to the internet shop and daily needs stores which are only a short walking distance from the ashram.
Maps and Photos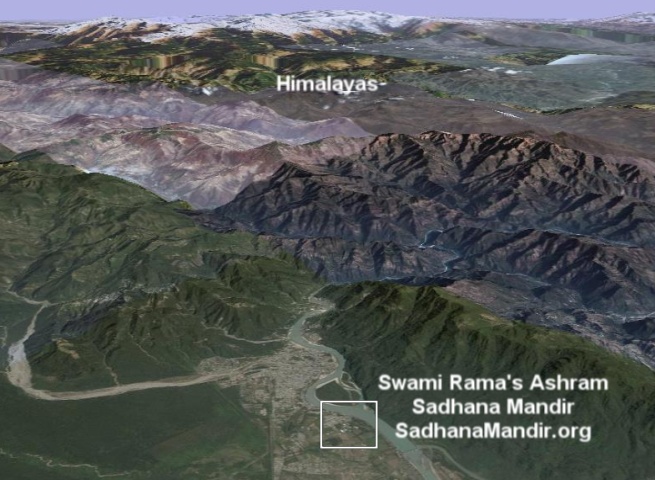 Front part of the ashram. This is the lower building
that can be seen in the satellite photos above.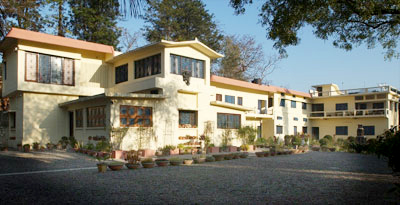 -------
This site is devoted to presenting the ancient Self-Realization path of the Tradition of the Himalayan masters in simple, understandable and beneficial ways, while not compromising quality or depth. The goal of our sadhana or practices is the highest Joy that comes from the Realization in direct experience of the center of consciousness, the Self, the Atman or Purusha, which is one and the same with the Absolute Reality. This Self-Realization comes through Yoga meditation of the Yoga Sutras, the contemplative insight of Advaita Vedanta, and the intense devotion of Samaya Sri Vidya Tantra, the three of which complement one another like fingers on a hand. We employ the classical approaches of Raja, Jnana, Karma, and Bhakti Yoga, as well as Hatha, Kriya, Kundalini, Laya, Mantra, Nada, Siddha, and Tantra Yoga. Meditation, contemplation, mantra and prayer finally converge into a unified force directed towards the final stage, piercing the pearl of wisdom called bindu, leading to the Absolute.