Two Faces of Emotions
in Yoga Psychology
by Swami Jnaneshvara Bharati
SwamiJ.com
Two types of desires and emotions: There seems to be no limit to the diversity of our desires. However, the desires all operate in only two directions. Either we want something or some outcome, or we want to avoid something or some outcome. Every desire falls into one of those two types.
Similarly, there are only two categories of outcomes once those desires become active and play out. Either we attain our desired outcome, or we do not attain our desired outcome. From those, there are at least hundreds of emotional responses, although all of those emotions are of only two types or directions as well.
In Yoga psychology all of these pairs are related to the kleshas (colorings) of raga (attraction or drawing towards) and dvesha (aversion, pushing away, or opposition) as described in Yoga Sutras 1.5 and 2.1-2.9. These are accompanied by the klesha or coloring of the fear of the loss or "death" of the matrix of attractions and aversions that collectively define who we (incorrectly) think we are at the level of personality and physical body identity.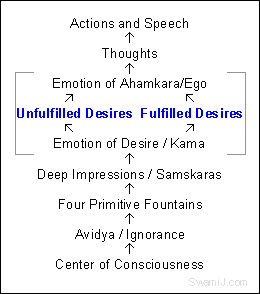 (Detailed description of this graphic is here.)
Two reactions: Stemming from those desires, we have a wide range of emotional responses. However, all of those emotional responses relate to those two types of desires. In relation to what we want, we either get what we want, or we fail to get what we want. In relation to what we would like to avoid, we either succeed in avoiding it, or we fail to avoid it.
Outcome 1: Outcome 2:



Four possibilities: Thus, while there may be a very wide range of emotional responses described in our language, they all fit neatly into one of those four types. This can be extremely useful to understand when we are seeking to have the direct experience of that highest bliss (ananda) that comes from the realization of the Self, Atman, or Purusha, which is beyond all emotional and mental processes.
It is imperative to understand that this is not meant to trivialize emotions. A full emotional life is a part of joyous living in the world.
Two desires: There are only two kinds of desire:
1) Attractions: What you desire.
2) Aversions: What you want to avoid.
Four outcomes: Four possible outcomes of those two:
1) You get that to which you are attracted.
2) You do not get that to which you are attracted.
3) You get that which you want to avoid.
4) You do not get that which you want to avoid.
Two faces of emotions: All emotions are in one of two directions:
1) Some emotional responses come with attaining what we want, or succeeding in avoiding what we do not want.
2) Other emotional responses come from failing to attain what we want, or failing to avoid that which we do not want.
Two faces of hundreds of emotions: Below are over 500 descriptive words. Notice how each word relates to either: 1) the desire to attain some object or outcome, or 2) the desire to avoid some object or outcome. Notice also that each word reflects the response to whether one: 1) succeeds in that desire to either attain or 2) to avoid.
Kleshas or colorings: This is the spirit of the process in Yoga relating to the kleshas, which are the colorings of the thought patterns in the mind-field.
Related to these colorings, please review these pages:
Klishta and Aklishta Thoughts
Yoga Sutras 1.5-1.11 particularly Sutra 1.5
Yoga Sutras 2.1-2.9, particularly Sutra 2.3
Karma, particularly the three sections on emotions
Healthy emotional life and meditation: A wide range of emotional experience is a healthy part of a joyous life. However, at the time of meditation we want to temporarily suspend them completely. When we systematically become a witness to those emotions rather than being dragged around by them with a feeling of helplessness, we are on the path to Self-Realization, the direct experience of that pure, untainted center of consciousness called Atman, Self or other names.
Seeing the simplicity: To quiet the noisy mind during meditation is a prerequisite for the depth of insight. This means temporarily setting aside emotional thought process so that the pure light of joy can come shining through. This can seem like a daunting task because of the vast range of mental-emotional experience. However, when we see that they all cluster into a two simple types that have only four possible outcomes, the process becomes significantly simpler to understand, and in turn, easier to do.
Karma Yoga and selfless service: It should be noted here that while many, if not most of our actions are driven by desire, there is another form of action which is not driven in this way. That is Karma Yoga, the Yoga of action. In this type of action there is total selflessness, no coloring whatsoever, whether attraction or aversion. It is purely for the benefit of others. More often than not, for most of us, most of the time, this is an ideal for which we strive, though seldom purely attained. Mostly our motives are mixed, with part being driven by either attractions or aversions, and another part being truly selfless. When the actions are purely selfless we are free from the desire based emotional responses. In other words, we are not merely responding emotionally to whether our desires are, or are not fulfilled. It is very useful to witness our mixed responses so that we can gradually serve ever more from the selfless stance, allowing the attractions and aversions to fade, weaken, or attenuate, and thus, lose their control over our actions, speech and thought.
Letting go through non-attachment: Read through the list of descriptive words below. Reflect on enough of them that you can personally see the elegant simplicity of the fact that they each reflect a leaning towards one of two things, either something you want or something you want to avoid. See the way in which there are only four possible outcomes. Either you get or don't get that which you want, or you either get or don't get that which you seek to avoid. To let go of all of them during meditation and contemplations is the path of non-attachment (vairagya), which is central to the higher goals of Yoga, Vedanta and Tantra.
For more about non-attachment, please see:
Yoga Sutras 1.1-1.4, particularly 1.2
Yoga Sutras 1.12-1.16, particularly 1.12

Emotions and action words:
Reflect on how each of these might result from either getting what is wanted or failing to avoid that which is not wanted. It is not intended that there are absolute answers to which of the two polarities any one emotion might most relate. Rather, reflect on the two-polarity nature of emotions by exploring the principles of attraction (raga) and aversion (dvesha), along with fear (abhinivesha), how these interact with one another, and how each of these is transcended through the path and process of non-attachment (vairagya; Yoga Sutras 1.12-1.16)


A few examples:

When either:
Attaining what is wanted
or succeeding in avoiding
what is not wanted.


When either:
Not attaining what is wanted
or failing to avoid
what is not wanted.


We might feel:
Happy, delighted, enthusiastic, exhuberant, grateful, inspired, jovial


We might feel:
Sad, angry, depressed, jealous, lonesome, miserable, rejected

Reflect similarly on these 500+ words:


Abandoned
Abhor
Ablaze
Abominable
Abrasive
Absorbed
Absorbed
Absurd
Abused
Abusive
Acceptance
Accommodating
Acknowledged
Acquiescent
Acrimonious
Admonished
Adoration
Adored
Adventurous
Adverse
Affected
Affectionate
Afflicted
Affronted
Afraid
Aggravated
Aggressive
Agitated
Agonized
Agony
Agreeable
Airy
Alienated
Alive
Alluring
Alone
Altruistic
Amazed
Ambiguous
Ambitious
Amenable
Amorous
Amused
Angered
Angry
Anguished
Animated
Annoyed
Anticipation
Anxious
Apathetic
Appealing
Appeasing
Appetizing
Appreciation
Apprehensive
Ardent
Arduous
Argumentative
Armored
Aroused
Arrogant
Astonished
Astounded
Attentive
Avoidance
Awe
Awkward
Balanced
Beaten down
Begrudging
Bemused
Betrayed
Bewildered
Bewitched
Bitchy
Bitter
Blah
Blessed
Blissful
Blunt
Boiling
Bored
Bothered
Brave
Breathless
Breezy
Bright
Broken
Bruised
Buoyant
Burdensome
Bursting
Callous
Calm
Captivated
Captivating
Careless
Caring
Celebrating
Chagrined
Charmed
Charming
Chastened
Cheerful
Cheery
Cherishing
Chipper
Clandestine
Clear
Cold
Cold-blooded
Collected
Comatose
Comfortable
Compassion
Competitive
Complacent
Composed
Concerned
Confused
Congenial
Content
Cool
Copasetic
Coping
Cordial
Cornered
Creative
Crucified
Crushed
Cursed
Cushy
Cut down
Dainty
Dazed
Defensive
Dejected
Delectable


Delicate
Delighted
Demure
Denying
Depressed
Desirable
Desired
Desolate
Despair
Despondent
Devilish
Devoted
Devoured
Disappointed
Discomfort
Discontented
Disgust
Dismal
Dispassionate
Displeased
Disregard
Disregarding
Distracted
Distressed
Disturbed
Doldrums
Don't mind
Doomed
Dreaded
Droopy
Dull
Eager
Earnest
Easy
Ecstatic
Electric
Emotional
Enchanted
Endearing
Enduring
Engaging
Enjoy
Enlivened
Enraged
Enraptured
Enthralled
Enthused
Enthusiastic
Enticing
Even tempered
Envious
Exacerbated
Exasperated
Excited
Exciting
Exhuberant
Exultation
Fanatical
Fascinated
Fascinating
Fear
Fearful
Fearing
Fervent
Fervid
Fiery
Flared up
Flattering
Flushed
Flustered
Fluttery
Foaming at the mouth
Forbearance
Fortitude
Fortunate
Frantic
Fretful
Frigid
Frisky
Frustration
Full
Fuming
Fun
Funny
Furious
Galvanized
Gay
Genial
Giggly
Glad
Glee
Gleeful
Gloomy
Glowing
Gnawing
Good
Goodness
Grateful
Gratified
Gratitude
Grave
Grief
Grieving
Grim
Griped
Grounded
Grudging
Gushing
Gusto
Haggard
Half-hearted
Happy
Hardened
Harsh
Having Fun
Hearty
Heated
Heavy
Hectic
Hellacious
Hilarious
Hissy-fit
Hope
Hopeful
Horrific
Horrified
Horror-stricken
Hostile
Hot
Humorous
Hurt
Hysterical
Impetuous
Imposing
Impressed
Impressionable
Impulsive
In a dither
In a fix
In a flurry


In a pickle
In a trance
Inattentive
Incensed
Indignant
Indulged
Indulgent
Inept
Infelicitous
Inflexible
Infuriated
Insatiable
Insensitive
Insouciant
Inspired
Interested
Intimidated
Intrigued
Inviting
Irate
Irrepressible
Irritated
Irritation
Jaunty
Jealous
Jittery
Jolly
Jovial
Joy
Joyful
Joyous
Jubilant
Kind
Languid
Laughingly
Lethargic
Light-hearted
Lively
Loathsome
Lonely
Lonesome
Longing
Long-suffering
Lost
Loved
Loving
Lukewarm
Lustful
Luxurious
Mad
Manic
Martyred
Meddlesome
Melancholy
Melodramatic
Merry
Mindful
Mindless
Mirthful
Miserable
Moderate
Modest
Moody
Moped
Mortified
Moved
Nervous
Neutral
Nonchalant
Not caring
Numb
Optimistic
Outraged
Over the edge
Overflowing
Over-wrought
Pain
Pained
Paniced
Paralyzed
Passionate
Passive
Patient
Peace of mind
Perky
Perplexed
Perturbed
Petrified
Pining
Piquant
Pitied
Pity
Pitying
Placid
Plagued
Pleasant
Pleased
Pleasing
Pleasurable
Pleasured
Pressured
Prey to
Pride
Protected
Proud
Provocative
Provoked
Quarrelsome
Quenched
Quiet
Quivering
Quivery
Radiant
Rageful
Rash
Raving
Ravished
Ravishing
Ready to burst
Receptive
Reckless
Reconciled
Refreshed
Rejected
Rejection
Rejoice
Relieved
Relish
Remourseful
Repressed
Repugnant
Resentful
Resentment
Resigned
Resistant
Restrained
Revived
Ridiculous
Romantic
Rude

Rueful
Sad
Safe
Satiated
Satisfied
Scared
Scowling
Secretive
Secure
Sedate
Seduced
Seductive
Seething
Selfish
Sensational
Sensual
Sentimental
Serious
Shaken
Shame
Shielded
Shocked
Shutter
Shy
Silly
Simmering
Sincere
Sinking
Smug
Snug
Sober
Sobering
Soft
Solemn
Somber
Sore
Sorrow
Sorrowful
Sour
Sparkling
Spastic
Spicy
Spirited
Spry
Stoic
Stranded
Stressed
Stricken
Strong
Stung
Stunned
Stuporous
Subdued
Subjugated
Submissive
Suffering
Sunny
Supportive
Surprised
Surrender
Susceptible
Suspended
Sweet
Sympathetic
Sympathy
Taken advantage of
Tame
Tantalizing
Tantrumy
Tempered
Temperate
Tender
Tense
Testy
The blues
Theatrical
Thick-skinned
Thin-skinned
Threatened
Thrilled
Tickled
Tight
Tightened
Tight-lipped
Timid
Tingly
Tired
Tolerant
Tormented
Tortured
Touched
Tranquil
Transported
Trepidation
Trigger-happy
Troubled
Twitchy
Uncomfortable
Unconcerned
Unconscious
Uncontrollable
Under pressure
Undone
Uneasy
Unfeeling
Unhappy
Unimpressed
Unruffled
Unsympathetic
Used
Vexed
Victim
Victimized
Vivacious
Volcanic
Voluptuous
Vulnerable
Warm
Warmhearted
Weak
Weary
Welcomed
Whining
Winsome
Wistful
Woe
Woeful
Worked up
Worried
Wounded
Wrathful
Wretched
Yearn
Yearning
Yielding
Zeal
Zealous
Zestful
Zoned-out
Conscious Mind
All of the emotions above are
experienced in the Conscious Mind.

Unconscious Mind
These emotions arise as a result of the
conditionings and processes of the Unconscious Mind.

Ananda or Bliss
Ananda or Bliss is not experienced as a result
of either fulfilling or failing to fulfill desires,
as is the case with emotions such as above.
True Bliss or Ananda is from beyond the mind,
and is not an emotion in the conventional sense.

Four Functions of Mind
Those conditionings are stored in the Chitta, are colored by Ahamkara, play out through Manas, and can be witnessed by Buddhi. The center of the "hub" of the wheel of mind is the pure consciousness (Atman) which transcends the rest, and knows Ananda.
(Four Functions of Mind article)

Klishta/Aklishta - Colored/Not-Colored
Those conditionings or deep impressions stored
in the reservoir known as Chitta can gradually
be weakened or attenuated, and begin to lose
control over our actions, speech and thoughts.
This, in turn, allows one to regulate emotions
in positive ways, such that the negative emotions
are less and less an obstacle to deep meditation.
(Klishta/Aklishta article)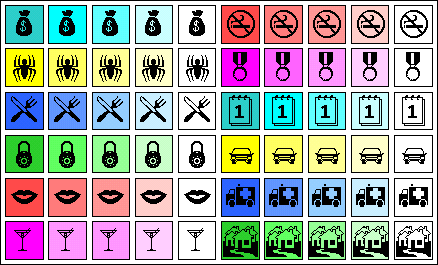 -------
This site is devoted to presenting the ancient Self-Realization path of the Tradition of the Himalayan masters in simple, understandable and beneficial ways, while not compromising quality or depth. The goal of our sadhana or practices is the highest Joy that comes from the Realization in direct experience of the center of consciousness, the Self, the Atman or Purusha, which is one and the same with the Absolute Reality. This Self-Realization comes through Yoga meditation of the Yoga Sutras, the contemplative insight of Advaita Vedanta, and the intense devotion of Samaya Sri Vidya Tantra, the three of which complement one another like fingers on a hand. We employ the classical approaches of Raja, Jnana, Karma, and Bhakti Yoga, as well as Hatha, Kriya, Kundalini, Laya, Mantra, Nada, Siddha, and Tantra Yoga. Meditation, contemplation, mantra and prayer finally converge into a unified force directed towards the final stage, piercing the pearl of wisdom called bindu, leading to the Absolute.